Информация об исполнителе
Credits
Arranged By, Composed By, Performer, Producer -
Portico Quartet
Artwork By [Design, Artwork And Collages By] -
Duncan Bellamy
Bass [Double] -
Milo Fitzpatrick
Co-producer, Engineer -
Sonny
Drums, Percussion [Hang] -
Duncan Bellamy
Engineer [Assistant], Mixed By [Assistant] -
Kevin Feazey
,
Simone Filiali
Executive Producer -
Oliver Weindling
,
Will Gresford
Mastered By -
Andrew Tullock
Mixed By -
Sonny
Percussion [Hang] -
Nick Mulvey
Photography -
Matt Crossick
Saxophone -
Jack Wyllie
Biography
The Portico Quartet are a bunch of guys in their early twenties who play instrumental music. Formed four years ago from two sets of schoolfriends, they share a house in East London, make recordings, and play festivals and clubs. Yet what distinguishes them from dozens of other Hackney hopefuls is the way they sound – a fresh, unclichéd resynthesis and reinvention of music that's both pleasingly familiar and thrillingly new, like World Music from the future. With largely acoustic resources – percussion, bass and wind instruments – they have conjured and refined a group signature that's immediately recognisable. Thanks to the use of the hang, a tuned percussion instrument bought on impulse at a music festival, they have a sound that is instantly attractive, yet uncompromisingly individual, and it's this, combined with the cheerful eloquence of their performances, that has brought Portico Quartet a long way in a short time.

The line-up of the band is Duncan Bellamy (drums), Milo Fitzpatrick (double bass), Nick Mulvey (hang and percussion) and Jack Wyllie (soprano, tenor saxophones and electronics). From a grassroots start in 2005, busking on the South Bank of London's Thames, their reputation spread swiftly. They began to get paid bookings plus the odd festival, and they made a five-track CD to sell at gigs. In 2007 they signed a record deal to make a full length CD, Knee Deep In The North Sea (Babel/Vortex). This was a turning point: the album attracted attention from DJs, bloggers and critics of every stripe, and was nominated for the 2008 Mercury Music Prize alongside Rachel Unthank, The Last Shadow Puppets, Radiohead and Elbow – a win-win situation for credible newcomers like Unthank and Portico Quartet.

Now the band has another album in the can: Isla (Real World Records, out October 2009) is a thoughtful and richly tuneful collection of nine pieces recorded by producer John Leckie at Abbey Road no. 2, a studio room made legendary by George Martin, the Beatles, Kate Bush and many others. Leckie's track record as a catalyst for emerging talent is legendary: not only for the famous examples, Stone Roses, Doves, XTC, Radiohead, but also for pioneering systems orchestra Lost Jockey (which spawned Man Jumping, ZTT's Andrew Poppy, Orlando Gough, and soundtrack supremo John Lunn) and World Music stars such as Rodrigo & Gabriela and Papa Wemba.

Their story begins in 2004, when Bellamy and Mulvey, who met at sixth form college in Cambridge, first encountered the hang at a temporary music shop at WOMAD, the World Music festival then held at Rivermead in Reading. Bellamy bought one of four left in stock: 'It had been my birthday, and I had some money in my account, and I borrowed the rest off friends,' he laughs, 'because "why not".' A few days later, Mulvey phoned up to order another one, making sure it was in a sympathetic key, and they started to experiment.

Invented and first made in 2000 by Felix Rohner and Sabina Schaerer of PANArt in Bern, Switzerland, the hang is a dimpled, dome-shaped tuned metal percussion instrument, like two woks welded together. The sound is reminiscent of the mbira (thumb piano) and the steel drum, but the hang has a tunefulness and resonance that derives from its significantly different overtones.

Yet it wasn't until Portico Quartet got started, in Spring 2005, that Bellamy and Mulvey realised how important the instrument would be for them. 'The limitations have been really liberating in a paradoxical way,' says Mulvey. 'They've ushered me into making musical choices. I think it's made me a better musician, with a "less is more" approach – to do less and listen more.'

Bassist Fitzpatrick, who has known saxophonist Wyllie since they were at infant school together, doesn't miss the freedom that a more chromatic instrument might bring to the group. 'The limitations of the hang are just the same as those of a musician inside themselves,' he muses. 'Even if you have a piano, with all the keys and all the notes, it doesn't make any difference, it's all about how you express yourself inside.'

In fact the simple 'constraints' of Portico Quartet's unusual line-up have proved to be a gateway to a world of musical possibilities that makes them sound like no one else around, like World music from another planet. Yet there's nothing alien about their music: the four principal voices – saxes, bass, drums and hang – communicate with the intensity of a string quartet, the ease of a jam session and the youthful glee of a pop group.

For an instrumental band, playing acoustic music with unfamiliar instruments, Portico Quartet seem to have glided effortlessly past all the potential obstacles in today's music culture: they're lucky, but they've also made their own luck. I first heard about them by word of mouth, and through the YouTube clip of 'Still Life With Flowers', an animation by Leo Bridle (a Southampton schoolfriend of Wyllie) that makes clever use of their music. When I first saw them perform – during the Southbank Centre's reopening weekend in 2007 – their free, ad hoc performances prompted random audience groupings to gather within seconds. People of all ages and all types smiled with pleasurable recognition at music they'd never heard before. It's not 'easy listening', but it's a friendly sound, for reasons that are as musical as they are social. As Mulvey says: 'The resonance of the hang really hugs everything around it.'

So where does this music come from? Asked to name significant musical experiences, any number of names tumble forth, from Queen and Miles Davis to EST, Philip Glass and Toumani Diabaté, plus many more from Africa, Asia and the Caribbean. And they all cite Steve Reich's Music For 18 Musicians, made before they were born, as a landmark album: 'My Mum gave it me when I was 15 for a birthday present,' recalls Mulvey, 'and it was just – phwoo – Technicolor!'

Collectively, they're schooled in jazz, classical and popular music, and both Wyllie and Mulvey studied mbira and Balinese gamelan at SOAS (School of African and Oriental Studies), where they met in 2004. Most importantly, the members of Portico Quartet have learnt about their music from each other. And they've grown up independently as a band, keeping a discreet distance from the cloistered fund-chasing of contemporary classical music, the cash-strapped musical chairs of the jazz scene and the competitive rat-race of indie.

Isla, the new album, is another step forward. Producer Leckie has brought an extra clarity to their arrangements, while the musicians have made good use of the studio to sculpt and enhance their sound with loop pedals, real-time electronics and overdubs. Nevertheless, 70 per cent of the album was performed live at Abbey Road: this is a band who can deliver on the promise of their recordings in concert; and vice versa. Their collectively written compositions evoke a universe of musical possibilities and influences. 'Eventually, the sum of all our parts – and what we've been listening to – comes out,' says Wyllie. Yet Portico Quartet sound like nobody else in jazz, World or contemporary music. Each of the nine tracks on Isla has a distinct mood and atmosphere, while remaining firmly within their soundworld. From the churning maelstrom of Clipper to the pounding pedal points of Dawn Patrol; from the fragile ostinatos of Line to the anthemic ensemble of the title track, Isla is an album whose contents reveal fresh nuances and facets on each listen.

Music industry veterans sometimes express anxieties that new listeners and performers are losing interest, that music is becoming dematerialised, in every sense, while other fads and forms come to the foreground. Portico Quartet give the lie to such fears. Like their fans and followers, they have grown up immersed in the global jukebox of sounds available to anyone with curiosity and an internet connection. What they play can't be classified as World, jazz, pop, rock, roots or contemporary classical music, yet they draw strength and inspiration from all those genres. They understand the power of performance, and the potential of music to communicate through its basic elements: rhythm, harmony, melody and timbre. And, as a band of friends, they have wrought a collective sound that evokes a multitude of musical memories while remaining genuinely new, sounding a warm new note that resonates long after the final track has ended.
John L Walters August 2009
Ханг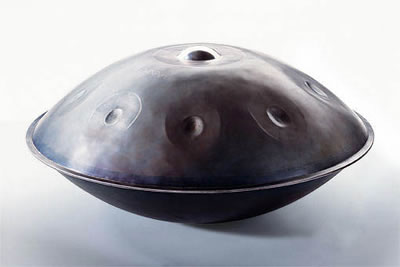 Ханг (нем. Hang) — перкуссионный инструмент, состоящий из двух соединенных металлических полушарий.
Инструмент был разработан в 2000 году Феликсом Ронером (Felix Rohner) и Сабиной Шерер (Sabina Schärer) (компания PANArt) из швейцарского города Берн в результате многолетнего изучения стальной тарелки и многих других резонирующих перкуссионных инструментов со всего света: гонга, гамелана, гатама, барабанов, колокольчиков, музыкальной пилы.
На бернском диалекте немецкого языка слово Hang означает "рука".
Этот ударный инструмент состоит из двух соединенных между собой металлических полушарий: стороны DING и стороны GU.
На стороне DING расположены 7-8 тональных областей, образующих «тональный круг». Он окружает центральный купол, названный DING (похожий на гонг). На стороне GU находится отверстие размером с кулак для звукового резонанса. На этом отверстии можно играть как на уду или использовать его для модуляции звука DING.
Есть множество способов извлечения звука из ханга: кончиками пальцев, большими пальцами, основанием кисти. Обычно игрок располагает ханг на коленях, но можно установить его и на барабанную стойку.
показывать / спрятать больше