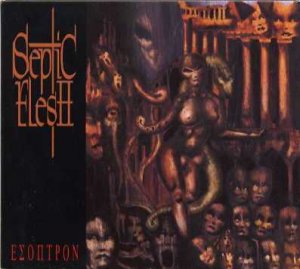 Genre
: Death/Doom Metal
Tracklisting
:
1. Septic Flesh - Breaking The Inner Seal (0:49)
2. Septic Flesh - Esoptron (5:19)
3. Septic Flesh - Burning Phoenix (4:39)
4. Septic Flesh - Astral Sea (0:30)
5. Septic Flesh - Rain (3:39)
6. Septic Flesh - Ice Castle (5:54)
7. Septic Flesh - Celebration (0:53)
8. Septic Flesh - Succubus Priestess (4:10)
9. Septic Flesh - So Clean, So Empty (3:57)
10. Septic Flesh - The Eyes Of Set (4:50)
11. Septic Flesh - Narcissism (8:54)
Duration
: 0:43:39
One year after their successful debut album "Mystic Places of Dawn", Chris Antoniou, guitarist and one of the former members of Septic Flesh leaves for now the band in order to continue his guitar and orchestration studies at UK. Spiros and Sotiris remain back to continue the vision of Septic Flesh and in 1995 they release their second attempt, "Esoptron". For one more time the production was made by Septic Flesh and Necromantia's Magus Wampyr Daoloth, a good production but definitely not the best for such a wonderful release. In this album all the music and lyrics were written by Sotiris and it seems that he's pouring his soul into this release exposing his very own esoptron. According to the music, Septic Flesh, when time comes to relate "Esoptron" with their debut album, lower the speed of their compositions, but without losing in aggression, and at the same time the dark and mystic atmosphere becomes more descriptive evoking pictures of our inner self along with the esoteric lyrics. This time the influences from the ancient Greek culture are way more obvious and more intense than the ones in "Mystic Places of Dawn" and they add a unique mystic and ethereal feeling to the whole atmosphere. "Dark Romanticism and Ancient Memory" is what exactly this album is made of.