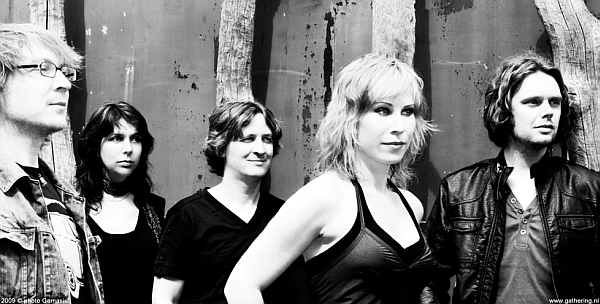 if_then_else 2000 line up:Anneke van Giersbergen
: vocals
Rene Rutten
: guitars
Frank Boeijen
: keyboards
Hugo Prinsen Geerligs
: bass
Hans Rutten
: drums
Frank
also plays hammond organ (5, 10, 11), upright piano [5, 9, 10), fender rhodes (7), wurlitzer (10), drumloops (1, 8), some 505 loops (2).
Rene
also plays vibraphone (8), acoustic guitar (9, 10).
Hans
also plays 505 loops (2), 505 drumloops (3, 9), percussions (1, 5, 7, 8, 10).
Hugo
also plays vibraphone (11)
guests:
Bart van Vegchel
: french horn (1, 6, 11)
Ad Verspaandonk
: trombon (6, 11)
Emmeke Bressers
: oboe (6)
Jasper Slotboom
&
Marthe Kalkhoven
: cello (6)
Jiska ter Bals
: violin (3, 9, 10)
What can be said about the cosmic rock act that hasn't already been said? Surpassing every rock and metal trend, the Gathering can do no wrong. Everything they touch turns to gold and this release seems to glimmer brighter than all before it. For some bands, there is a point in a career where everything clicks - every nuance, every guitar tone, every vocal hook - and the entire album just comes together. If-Then-Else is that album. From Anneke's blistering performance on the appropriately titled opener "Rollercoaster," which takes the listener on a loud, cerebral journey through the past and present creative eclipses of the band, to the haunting introspection of "Amity." A deep crash of lush melody and tempest aggression encounter one another on "Analog Park" and "Saturnine," creating a timeless focal point for the listener to fall into. Anneke's performance has never blazed this bright, as she channels out all of her famous ardor into an angelic sound, which can only be experienced through the intimacy of headphones. Take, for example, her dynamism on the doom rocker "Shot to Pieces" or her unleashed torment on "Herbal Movement" - both send a shiver down the spine as she journeys the unexplored regions of her band. Rene and Frank craft a burgeoning wall of sound, evoking the spirit of the evil metal version of the Dust Brothers, while Hans and Hugo romance a rhythm section that owes more toward early Bowie than anything metal. After toying with commercialism on the previous studio album, How to Measure a Planet, success continues to elude this sharp, brilliant band, but one senses bigger things are in the works for the band and for loyal Gathering followers. Highest possible recommendation.
Jason Hundey, AMG